There are certain products that are essential for bringing your new dog home. What dog essentials you need will vary depending on the breed and whether you are adopting a rescue dog or bringing a puppy into your new home. But the standard dog essentials that you will need are:
Bed or Crate
Lead and harness
Collar
Food and water bowls
Food Supply
Training Treats
Toys
PoopBags
Do you have a dog and want to learn about all the essential products you will need? Here is your guide on which products are necessary and the best places to purchase them.
We will go over how to choose a bed or crate for your pup, what types of leads and harnesses are out there, how to get food and water bowls, feeding your pup, what type of toys you can buy for him or her. In short, everything that needs to be done with a little help from my article!
Dog Essentials – Here's what you need to bring your new Dog Home
So get stuck in – we'll start with what might just be the most important thing for any pooch: their bed.
Bed or Crate
This is the most important out of all the dog essentials, next to food. Most dogs like a soft bed but it really depends on the breed. Some need a lot of space and others don't need so much. You should think about what breed you have and how old it is (if it is still a puppy) when thinking about what type of bed to get. There are many beds out there that look like normal beds, ones that fold away, some have zippers in the bottom for easy cleaning and some even have dividers in them to make two separate areas.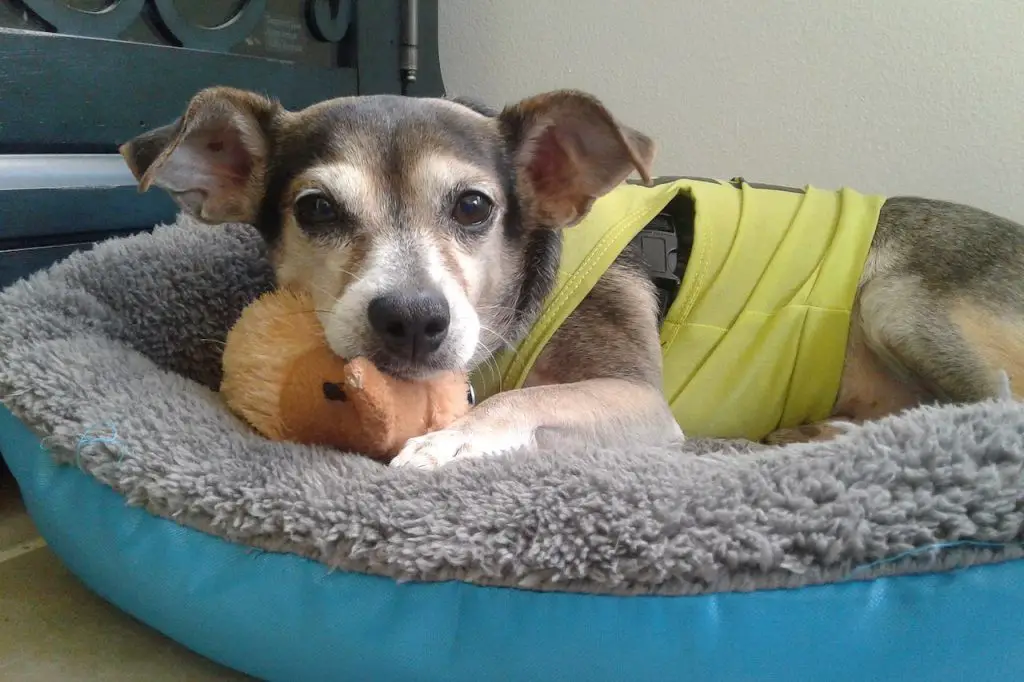 For a puppy, I find that an indestructible mat is best as they don't chew on them so it will last longer. Also, be careful buying one with 'zippers' for cleaning as they can be a bit too easy to rip. My favourite mat is the Petmate Powerpaw which is made from durable canvas material and has a rubber lip at the base of the fabric so it never moves around or shows dirt.
You will also need to get your dog some sort of bedding. I have had good experiences with their Vetbed range (which is available online too) so I would recommend this.
It is also important to get a dog bed cover as they can be very expensive to replace if your dog chews a hole in it. This one from Pets at Home is a great price and the material won't give you any problems as it is made from polyester and cotton.
Make sure you get one that is comfy for your dog. The best idea would be to try some on with your dog before you buy them from a shop (if possible). The lead should also be adjustable so if the pup gets bigger then you can adjust it as well. I find that thinner leads are better than coiled ones because if they train them early enough then they are unlikely to chew it up.
Collar
You will need a collar for your dog. A collar that is flat-buckled does the trick for most dogs – it looks smart, it is easy to take on and off and they get used to it. I recommend the one above as it has a tag attached so you can put your details on there (in case they run off) as well as a bell if you are going anywhere where there might be other animals running around in the field or streets that might be barking. The sizing runs true so just choose the one you think will be the best fit for your dog, usually based on their neck size (measure from where their collar usually sits to an inch below their chin). You can also read our article about the best Jack Russell Collar.
Food and Water Bowls
There are many different types of food and water bowls out there for you to choose from. Some are stainless steel, others are ceramic and then there are plastic ones too. I would recommend getting a plastic one for inside the house as they are much easier to clean and are good if you have a dog who likes to chew on their bowl (or slop). I have used the Zartle brand bowls for years and they are great.
Leads or Harnesses
There are different types of leads and harnesses on the market. The simplest is a flat lead which is just a strap that goes in front of the dog's chest. This is probably the cheapest, but does not have any bells on it (so if lost you won't hear it ringing). The disadvantage with this type of lead is that they don't really hold in all directions which can make controlling them difficult for beginners.
I find that harnesses are much better, especially if you have a strong dog. If you have a dog as big as my Bernese Mountain Dog then harnesses are the only way to go. There are lots to choose from out there, some are padded and comfortable for your pooch but you will need to ensure that they hold them in tight if they pull hard. If not, then they can be pulled away and all of a sudden you'll lose them. I find that the ones with springs do work well but can be difficult to put on. However, once on they don't budge so it is worth investing in one of those (they also come with a lead).
Chew toys
This is very important, especially if your dog is going to be left alone for a long time or you have a really naughty dog. Chewing can help them deal with stress and anxiety, it may also help with teething too. The most important thing is that they don't chew your stuff (especially the new shoes you just bought). I recommend buying some different types of chew toys so that they are stimulated and occupied with the different textures and smells. Make sure you get a few so that while one is being used another one is waiting to be used. A Kong Bone is a great option as they are very durable.
Toys for indoors
If your dog is used to being inside then you will need to keep them occupied with toys that will keep them interested. I recommend getting at least one or two balls as they are fun and can help with mental health!
I would also recommend taking a look at the Kong toys (above) as those are like no other. Stuffing a Kong with some treats and then freezing it is something that I do on a regular basis. You can also put treats or peanut butter in most toys to keep your dog entertained. However, make sure they are NOT slippery as they can be dangerous if you're playing fetch if they slip from your hands.
Ragga toys are great for tug-o-war and rough and tumble play. Blake loves to wrestle me for his ragga! They are sturdy toys and great for Jack Russell terriers.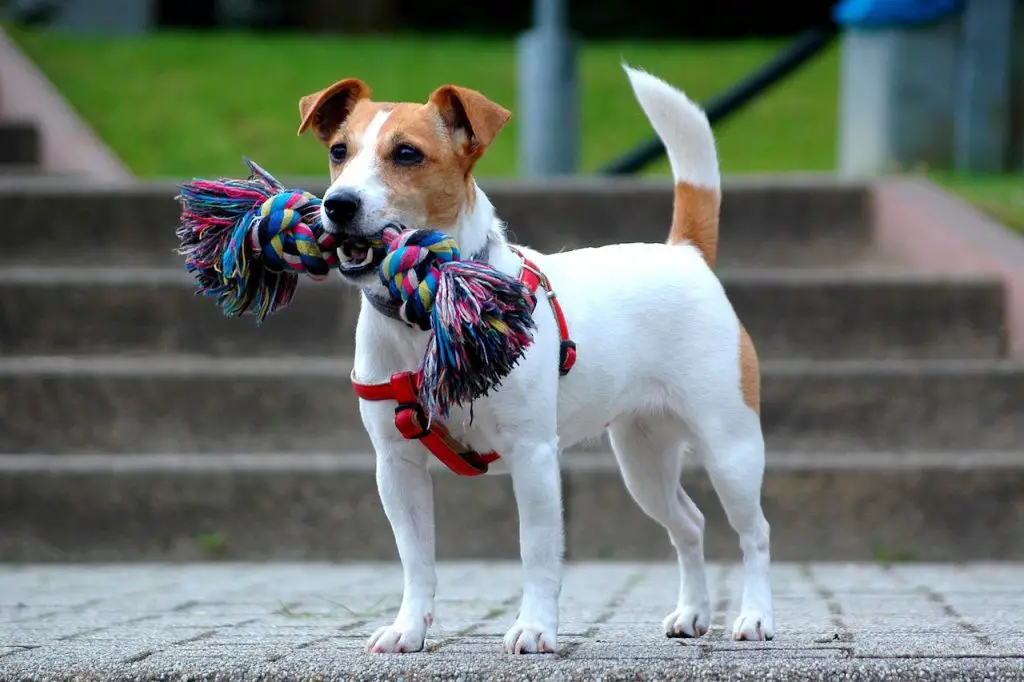 Poop bags, bin liners and Pooper Scoopers
Last on the list of dog essentials is poop bags. You will need to clean up after your dog at all times when out for walks. I am always amazed by the amount of people who don't have any bags on them at all when out walking their dog. It is so important to make sure you control the dog mess and take it with you. You can buy covered bin bags if you don't want your hands smelly, or you can use some disposable gloves if that is what you prefer. I like to use eco friendly poop bags like these earth bags:
No products found.
You may also need a scoop and I have found this scooper to be really good. It isn't too long and makes things easy for those who are not used to picking animal faeces up!
No products found.
In conclusion
There are so many things that can be useful when out walking your dog with all of the things that we have already mentioned in this blog post. However, the most important thing is just making sure your dog has an amazing life. I hope that you have enjoyed this Jack Russell blog on dog essentials.